Dusty Rhodes "The American Dream"
---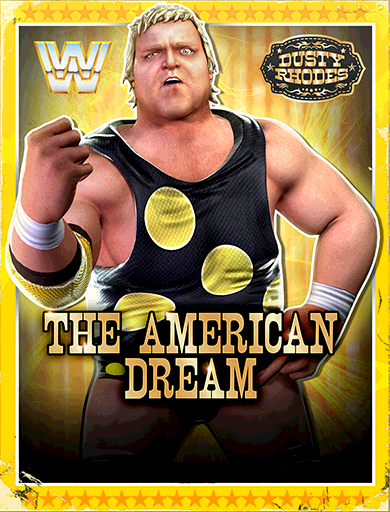 Stars
Tier

---
Talent:0
HP:0
Abilities
Abilities have not been loaded! Please refresh the page if it takes more than a minute.
Trainers
Trainer
No trainer buff is available.
Info
" I have wined and dined with kings and queens and I've slept in alleys and dined on pork and beans." Armed with his Bionic Elbow and the gift of gab this Texas native became The American Dream was inducted to into the WWE Hall of Fame in 2007.
Quotes
Dusty Rhodes is the man of the hour, the tower of power, he is too sweet to be sour !
To be the man, you gotta beat the man, and I, Dusty Rhodes, is the man.