Elias "Walk With Elias"
---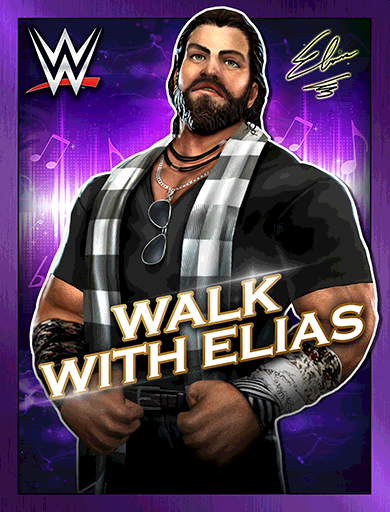 Stars
Tier

---
Talent:0
HP:0
Abilities
Abilities have not been loaded! Please refresh the page if it takes more than a minute.
Trainers
Trainer
| Talent | Buff |
| --- | --- |
| 1 | undefined |
| 9000 | Matching Black Gems Charge Moves of that Color by 1 more Move Points(MP). |
Tag Team Links
| Name | Buff |
| --- | --- |
| Modern Era | Gems do 5% more Damage. |
| SmackDown | All Moves start with 1 more Move Points(MP). |
Info
At first glance, the dedicated musician appears cool, calm and collected, but Elias' adversaries are well aware that it doesn't take much to ignite the fire that's burning just below the surface. Never one concerned with taking the high road or playing by the rules, the sinister songsmith has no qualms about targeting his opponents with a mighty swing of his six-string, especially if they have the nerve to interrupt one of his pre-match concerts. Since arriving on Raw, the dangerous Elias has clashed with the likes of Braun Strowman and Seth Rollins, and can even boast monumental victories over the likes of Finn Bálor and John Cena.
Quotes
Silence your cell phone, hold your applause, and shut your mouth.
WWE stands for Walk With Elias!