Jake Roberts "The Snake"
---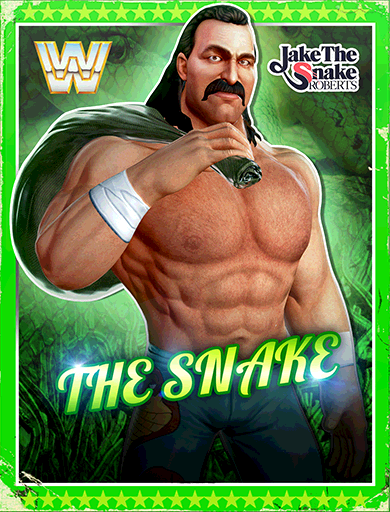 Stars
Tier

---
Talent:0
HP:0
Abilities
Abilities have not been loaded! Please refresh the page if it takes more than a minute.
Trainers
Trainer
No trainer buff is available.
Info
Ordinarily owning the psychological edge in any conflict, Jake Roberts finds himself susceptible to "Ravishing" Rick Rude's contemptible mind games. Amid their contentious rivalry, the gyrating Rude first unveils a new set of tights featuring the visage of Roberts' wife then even attempts to kiss her on national television. The snake man unfurls a hellacious assault on his enemy, teaching the Ravishing competitor a much needed lesson in humility.
Quotes
The snake you got to worry about is not the one in the bag. It's me.
I've got no friends in this business.