Matt Hardy "The Hardy Boyz"
---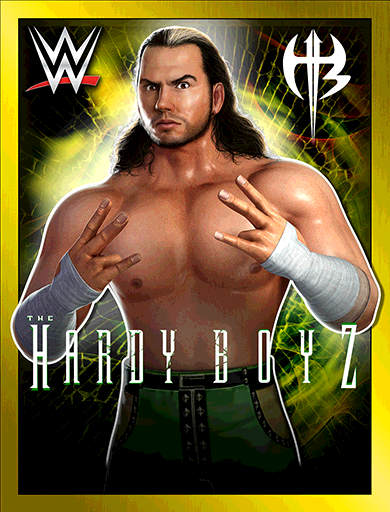 Stars
Tier

---
Talent:0
HP:0
Abilities
Abilities have not been loaded! Please refresh the page if it takes more than a minute.
Trainers
Trainer
| Talent | Buff |
| --- | --- |
| 300 | Multiply Gems Strength increased by 1. |
| 5000 | Multiply Gems Strength increased by 2. |
Tag Team Links
| Name | Buff |
| --- | --- |
| Modern Era | Gems do 5% more Damage. |
| RAW | All Moves start with 1 more Move Points(MP). |
| Seasonal | 10% more Health. |
| The Hardy Boyz | Matching Green Gems Charge Green Moves by 1 more Move Points(MP). |
Info
Most known for his numerous Tag Team Championships with his brother Jeff, Matt Hardy has turned the key of his destiny to become one of sports entertainment's greatest Superstars. The North Carolina native has won the WWE United States Championship, Cruiserweight Championship, European Championship, Hardcore Championship, and nearly 20 Tag Team Championship reigns throughout his career. Matt's career also had it's share of low moments, like when he betrayed his brother after being consumed with jealousy. This led to Matt beating his brother at WrestleMania XXV ,and then leaving the WWE the next year. The Hardy Boyz would reunite years later at WrestleMania 33, winning the Raw Tag Team Championship in a Fatal 4-Way Ladder Match. "Team Xtreme" are constantly pushing the envelope for the WWE Universe.
Quotes
I hope you're ready, for your sake.
Now you know the meaning of the pain known as Mattitude!