Rikishi "Too Cool"
---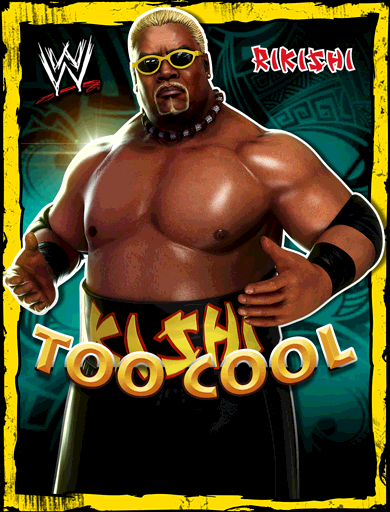 Stars
Tier

---
Talent:0
HP:0
Abilities
Abilities have not been loaded! Please refresh the page if it takes more than a minute.
Trainers
Trainer
| Talent | Buff |
| --- | --- |
| 1 | undefined |
| 9000 | Matching Yellow Gems Charge Moves of that Color by 1 more Move Points(MP). |
Tag Team Links
| Name | Buff |
| --- | --- |
| Attitude Era | Gems do 10% more Damage. |
| Fatu Family | All Moves start with 1 more Move Points(MP). |
Info
In 1999 Rikishi donned a pair of yellow shades, and joined Too Cool in their post match dance routine. Hearts and minds were instantly captured. The 400 pound member of the illustrious Anoa'i family became a fan favorite that used his signature move, the "Stink Face" to humiliate a who's who list of the WWE by forcing his buttocks into the face of many a WWE Superstar. A hall of Fame induction in the class of 2015 would cap off a career that included an intercontinental championship and multiple WWE Tag Team Titles.
Quotes
You must really want The Stink Face.
Time to dance!