Sgt. Slaughter "Sarge"
---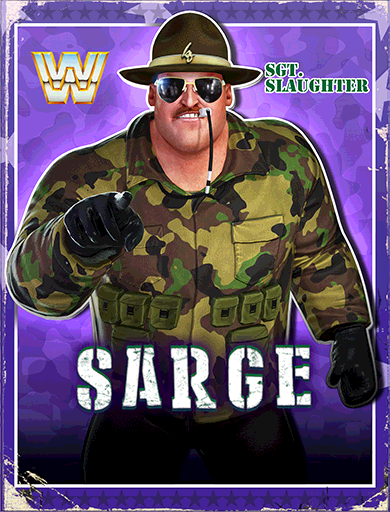 Stars
Tier

---
Talent:0
HP:0
Abilities
Abilities have not been loaded! Please refresh the page if it takes more than a minute.
Trainers
Trainer
No trainer buff is available.
Info
In 1991 Slaughter returns to WWE, but does the unthinkable when he becomes an Iraqi sympathizer during the Gulf War. Despite the distraction of very real threats from scorned WWE fans, Slaughter wins his only WWE Championship, defeating The Ultimate Warrior at Royal Rumble 1991. Slaughter further spits on his patriotic past by enlisting Gen. Adnan and Col. Mustafa in his Triangle of Terror.
Quotes
Oh how I love the sound of hand to hand combat.
Stay down! And that's an order!